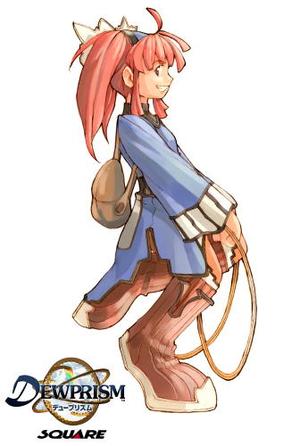 Mint is the de-facto comic relief, and the heroine of the game. She is the Crown Princess to the East Heaven Kingdom. She is brash, adventurous, egotistical, manipulative, violent and overall not what one would expect a princess to be. Despite seemingly everyone expressing disapproval of her attitude, Mint is thrown completely off-guard when she discovers her right to the throne has been given to her younger sister, Maya. Having had enough of Mint's behavior, Maya gladly accepts the throne and plans to make her sister's life miserable. Unable to compete with the powerful magic of the relic her sister possesses, Mint leaves home on a journey to find a relic more powerful than Maya's and become the ruler of the world. Along the way, Mint crosses paths with Rue, who is also searching for a relic. What Mint lacks in manners, she makes up for in magical talent. Armed with two magically charged Chakram rings and wielding an incredible jump kick, she is a formidable adversary.
Mint has an irrational fear of pumpkins, something that is featured numerous times within her storyline. Also foul-mouthed, she treats everyone around her cruelly, including her own grandfather. She seems to utterly detest Rue, even attempting to assault him numerous times but usually failing as the result of some comedic twist, such as losing balance when executing an attack and plunging into a nearby body of water as a result. At the end of her storyline, however, Mint does express a certain degree of care for Rue, and even her own sister, Maya, whom she seems to greatly hate. In the ending, the sisters engage in a fight, filled with a copious amount of swearing and jump kicking.
Abilities
Edit
Being a magic user, Mint uses many different spells. Each spell consits of one element and seven different spell types.

| Magic Class | Effect | Spell Name | MP Cost |
| --- | --- | --- | --- |
| Blue | Wide | Cutter | 4 MP |
| | Normal | Droplets | 2 MP |
| | Super | Icicle | 4 MP |
| | Power | Ripple | 4 MP |
| | Circle | Crystal | 6 MP |
| | Hyper | Restore | 100 MP * |
100 MP needed at least, uses up all MP
| Magic Class | Effect | Spell Name | MP Cost |
| --- | --- | --- | --- |
| White | Wide | Spread | 4 MP    |
| | Normal  | Vulcan | 1 MP |
| | Power | Arrow  | 4 MP |
| | Circle | Satellite | 10 MP |
| Magic Class | Effect | Spell Name | MP Cost |
| --- | --- | --- | --- |
| Red  | Wide | Bullet | 4 MP |
| | Normal | Burner | 2 MP |
| | Super | Napalm | 6 MP |
| | Power | Flare | 6 MP |
| | Circle | Delta | 6 MP |
| | Hyper | Fire Heart | 80 MP* |
80 MP needed at least, uses up all MP
| Magic Class | Effect | Spell Name | MP Cost |
| --- | --- | --- | --- |
| Green | Wide | Typhoon | 2 MP |
| | Normal | Wave | 3 MP |
| | Super | Impulse | 6 MP |
| | Power | Gale | 3 MP |
| | Circle | Cyclone | 3 MP |
| | Hyper | Nightingale | 80 MP* |
80 MP needed at least, uses up all MP
| Magic Class | Effect | Spell Name | MP Cost |
| --- | --- | --- | --- |
| Black | Wide | Dark Mist | 6 MP |
| | Normal | Bomb** | 5 MP |
| | Super | Dynamite | 10 MP |
| | Power | Graviton** | 6 MP |
| | Circle | Drill | 6 MP |
| | Hyper | Shadow Strike | 50 MP |
| Magic Class | Effect | Spell Name | MP Cost |
| --- | --- | --- | --- |
| Yellow | Wide | Spark | 5 MP |
| | Normal | Cracker | 6 MP |
| | Super | Trine | 8 MP |
| | Power | Bolt | 10 MP |
| | Circle | Forces | 8 MP |
| | Hyper | Final Flash | 100 MP* |
100 MP needed at least, uses up all MP
| Magic Class | Effect | Spell Name | MP Cost |
| --- | --- | --- | --- |
| Gold | Cosmos | Valiant | 10 MP |